(wersja polska na dole strony)
Here comes spring! Upcycle you winter tires into something beautiful!
All right. We can say that winter ends and soon it's gonna be time to change your tire from winter to summer. The question is: What should I do with the old one. If they're not so used yet so you can spare them to the next year but… What if they are? Forget about throwing away! Forget about going to the recycling center! Here comes some brilliant ideas how to upcycle old tires into amazing and sometimes completely unuseful things! Just take a look!
Upcycle tire belt
Great! In one of the latest posts I wrote about
cycle clocks
and now here comes some cycle tire belt! Cyclis are gonna love my blog! On Etsy shop
Tirebelt
you can find many, many more such a wonderful belts. This one is handmade of rare BMX cycle tire. Every belt made by Tire belt are an ucique piece. You can be sure that you won't find in H&M store! "The used bicycle tire comes form many Berlin's bike shops were they was ready for the dump"- we can read in the product describtion.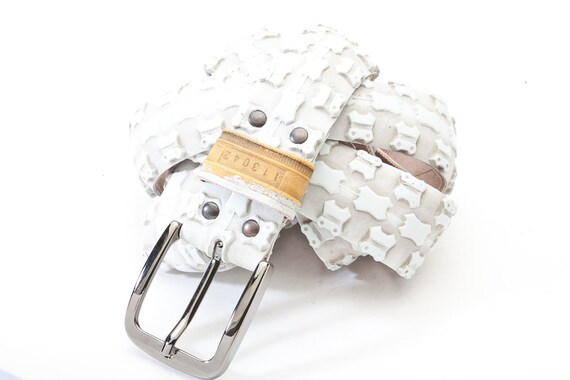 Armor made of upcycle tire tubes
This incredible armor inspired of Joan d'arc took total 50 hours for artis Grace Duval to make. "This suit of armor is a historical replica of a traditional suit of armor that was worn during the 15th Century in France. Inspired by the heroic tale of Joan of Arc, this suit of armor is a direct replica of a suit of armor that might have been worn by Joan of Arc." wrote artist
on her site
.
Upcycle tire table
I've found it
here
. Seems like a great DIY idea to make. And really simple as well. If you wonder why there are holes in the plexiglas? Here comes the answer: because th table is made as a play table for kids. "This way the boys can reach down into the tubes to store their cars and trains." Clever, isn't it?
Tire Art by Wim Delvoye
What do you think how long it took for the artist to make one of them? How amazing high skill levels and precise you should be to make such a tire? Btw. You just have to see the website
http://www.wimdelvoye.be/
You're gonna be surpised!
Tumbs up if you liked the post and you want to see more upcycle tires!
Drugie życie opon
No dobrze. Abstrchując od tego co za oknem nie ulega wątpliwości, że nastała kalendażowa wiosna. Wkrótce czas najwyższy nastanie na zmiane opon z zimowych na letnie. (Meteorolodzy bowiem uspokajają, że śnieg ma zniknąć jeszcze przed następnym Bożym Narodzeniem. ) I oto wlaśnie pojawi sie pytanie: co zrobić z oponami? Jeżeli nie zaszaleliśmy przesadnie, to mamy szczęście i możemy je przechować w garażu do następnej zimy. Jeśli jednak nasze, sprowadzone pięć lat temu z Niemiec gumiaki już dawno zapomniały co to bieżnik być może warto pomyśleć do czego jeszcze pożytecznego można je użyć. Jeżeli nawet aukcja na Allegro nie poszła najlepiej, jedynym rozwiązaniem pozostaje zatem przeronienie ich w coś innego. Zobacz jakie mamy pomysły na upcyclowanie opon.
Paski z opon

W jednym z ostatnich postów pisałam na zegarów z części rowerowych a teraz przyszedł czas na paski! Rozerzyści będa na prawdę kochać mojego bloga! Na stronie Etsy sklepu Tire belt możecie znaleść dużo więcej takich piękności. Ten mi się wyjątkowo spodobał z powodu nietypowego dla opon koloru :) Ten oto paseczek jest ręcznie wykonany z opon z roweru BMX. Każdy, więc także ten jest unikalny. Zatem nie znajdziesz ich w H&Mie :) To chyba dobra nowina dla tych, którzy lubią się originalnie ubierać. Opony są zbierane z różnych sklepów rowerowych na terenie Berlina gdzie leżaly gotowe do utylizacji.
Zbroja a la Joanna D'arc zrobiona z opon

Zrobienie tej oto wspaniałej zbroji, inspirowanej Joanną D'arc zajęło artystce Grace Duval nie bagatala 50 godzin! Pancerz jest historyczą repliką tradycyjnej XV wiecznej zbroi, którą używano w tym czasie we Francji. Właśnie taką zbroję mogła mieć na sobie Joanna D'arc podczas swoich walk. Zobacz więcej dzieł artystki tutaj .
Stół z opon
To cudo znalazłam na tej stronie. Wydaje się być świetnym i prostym pomysłem, który każdy może sam zrobić w domowym zaciszu. Jeżeli zastanawiasz sie czemu w plexi znajdują się dwie dziury to już służę odpowiedzią. Ten oto stół wykorzystywany był jako stół do zabaw dla dzieci. W ten sposób dzieciaki mogły chować do papierowych tub swoje samochodziki.
Sztuka z opon według Wima Delvoye
Jak myślicie ile zajęło artyście zrobieni jednej takiej opony? Jakie umiejętności trzeba posiąść, żeby umieć zrobić taie cudo? Problem jedynie w użyteczności. Nie mam zielonego pojecia co z taką oponą potem zrobić. Powiesić nad kominkiem? Tak przy okazji musicie zobaczyc strone artysty. Bedziecie na parwde zaskoczeni! http://www.wimdelvoye.be/
Dajcie znać co myślicie o wpisie, lubcie i przesyłacie dalej jak się podobało i jak chcecie zobaczyć więcej oponowych rewelacji.