The second life of books

As I started to live simple and not to have a lots of things home which I havn't used from ages, books was always one of the biggest problem. I used to visit a library quite often, buy, read, put on the shelf and forget. Books of course looks nice and gives a graet feeling just to have them nearby but on the other hand how many of them you can manage to read more then once? E-books is way of better if it comes to space and you live in a one-room appartment as me.

This is some of my fovourites propositions of what you can do with books if you feel sorry to just throw them away.
Drugie zycie ksiazek

Ostatnio staram sie zyc najprosciej jak to tylko mozliwe i posiadac jak najmniej rzeczy w moim otoczeniu. (a zwlaszcza bezuzytecznych rzeczy). Coz... Ksiazki zawsze byly jednym z najwiekszych problemow, bo z jednej strony kocham czytac i przywiazuje sie bardzo do ksiazek ale z drugiej ciegle przeprowadzki sprawiaja tylko, ze staja sie one problemem. Wiekszosc z nich przeczytalam tylko raz i reszte swojego zycia spedzaja na polce. Zreszta jest przeciez XXI wiek, czas e-bookow i internetu, ktore nie wymagaja tyle miejsca.
Przegladajac internet znalazlam kilka ciekawych propozycji dotyczacyh upcyclingu ksiazek. Jezeli wiec, tak jak ja macie pelno ksiazek i nie wiecie c

o z nimi zrobic, a zal wam tylko je wyrzucic spojrzcie jakie mam dla was alternatywy.
http://www.instructables.com/id/How-to-make-a-book-headboard/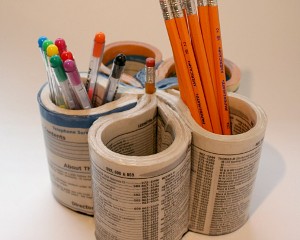 http://www.chicaandjo.com/2009/02/24/recycle-phone-book-into-pen-organizer/
TU Delft architecture bibliotheek
www.spaceinvading.com
Three story high stack of Abraham Lincoln books. Via
www.mymodernmet.com
Hollow Book Safe – Emma from
greenRstudio
Book clocks from
SteampunksNotDead
Robeert The Britannaca Book Broom
www
.beautifullife.info